4 Things Everyone Gets Wrong About Live Cam Sex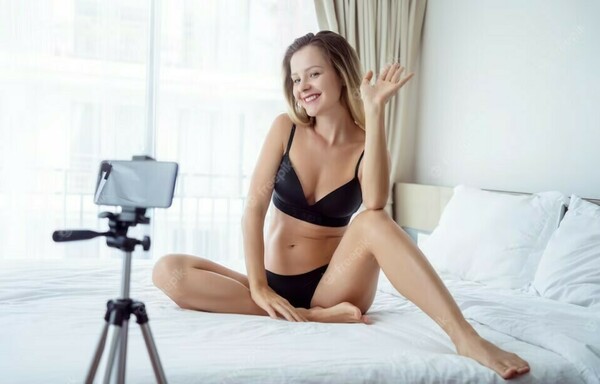 In a day and age when many people are fairly open about topics like porn use and sex toys, it's probably not that surprising that sex cams seem increasingly mainstream, as well. In fact, you probably know at least one friend or acquaintance who jokes casually about starting an OnlyFans account someday (if they haven't done it already).
But even with the growing level of comfort people have with live sex cams, there's still a lot the average person gets wrong about them. The following are just a few myths and misconceptions that seem especially persistent. How many do you still believe?
1. Only lonely single guys go to live cam sites
When someone unfamiliar with the world of live cam sex pictures the average user, a certain mental image comes to mind. To be more specific, they picture someone who's male, single, straight, lonely, and incapable of connecting with women any other way. But the reality is that a lot of different people enjoy live cam sex.
Both performers and users can be female, male, trans, and non-binary. Sure, there are plenty of single people who enjoy these sites. But many users have active sex lives outside of their interactions with cam performers or are in committed relationships. Couples enjoy the turn-on of visiting cam sites together, as well.
2. Live cam sex isn't any different from porn
Although some people tend to think of live cam shows as nothing more than interactive porn, that's a huge oversimplification. To be fair, they're similar in that they're both accessible, stimulating ways to enhance your solo time. And both can be great ways to further explore your fantasies and personal brand of sexuality.
But top options like Babestation live sex ultimately bring something to the table that porn doesn't – an actual connection with the person on the other end of the content you're enjoying. With a cam show, the user is ultimately the one in the driver's seat, as they can actually interact with the other person and affect how their experience plays out.
And there's always the option to take things even further with a private show. Many cam site users eventually develop preferences for specific performers and unique connections that are fulfilling on more levels than one. That's not something that's ever going to happen with the standard porn you're used to.
3. All cam models are the same
One of the most persistent misconceptions about live cam sex sites is that every performer on them fits the same stereotype – an unnaturally beautiful woman with fake boobs, bleached blonde hair, and a knack for realistically faking her orgasms. But if you spend much time on a really great cam site, you'll quickly see that this just isn't true.
Sure, there are women there who are total dead ringers for professional porn stars or supermodels. (In fact, many performers have actual professional experience in one of those arenas.) But there are plenty of so-called "real" women who do cam work, as well – so many that most solid sites will have options to suit pretty much every preference, kink, and curiosity.
So, maybe you're into MILFs or BBW. Or perhaps you have a weakness for redheads, hyper-dominant women, or innocent girl-next-door types. Whatever you're into, there's a cam experience out there with your name on it, so don't be afraid to explore a little bit.
4. Cam shows start and stop at female masturbation
Don't make the mistake many people make and assume that all there is to see on a cam site is woman after woman pleasuring herself in front of the camera for horny guys. Yes, there's plenty of that going on if that's what you're into and came to see. But you'll also gain access to all sorts of creative approaches to sexuality you probably never expected to see.
Camming can be a pretty competitive business, so a performer who's serious about building a following and being successful typically has to do a lot more than put on some lingerie and play with her vibrator in front of a camera. Some models get seriously creative in some unexpected ways as a result. And you'll find there are couples, groups, and more who love getting dirty in front of the camera, too.
So, as you can see, there's a lot more to live cam sex than some people think there is. Collectively speaking, cam sites can offer users connection, many levels of interaction, and many opportunities to explore new, exciting parts of their sexuality. Plus, it's fun, creative, and a solid addition to literally anyone's sexual routine.
Don't let the myths you've heard your whole life keep you from exploring the right sites yourself. You just might wind up meeting people who surprise you (or help you surprise yourself) in the process.